Help and web accessibility:

Tips
Tips
How do I plan a trip?
Check out the Trip Planner section of this Help area.
You can customize your trip using the Options section in the Trip Planner module.
Why didn't my trip match my expectation?
The Trip Planner gives the itineraries with the fastest travel time, If you are looking for a different route, try adjusting your preferences in Options.
Why can't I find a trip to a certain location?
The location may be:

Outside Triplinx's service area;
Served by an agency not in Triplinx;
Not served at requested time (e.g. early morning, late evening).

Try adjusting the time (if applicable) or changing the origin/destination to the nearest GO location
Why did Triplinx ignore my preferences?
The Trip Planner could not find a result that respected all of your preferences.
Try adjusting the walking distance in Options
Triplinx only shows departures, where can I find the arrivals?
Use the full schedules provided in the Schedules view
How do I save the locations or routes that I use often?
Create an account to customize your Triplinx experience
On the go? Get the Triplinx App! Now available for iPhone and Android.
Using the Map
Several map layers are available to choose from using

.
Using your mouse, you can right-click to select a location on the map as a start, end, or stopover point for your trip. You can also access the Stop Finder module to find stops and points of interest near your selected location.
Routes near your current location using "Locate on the map"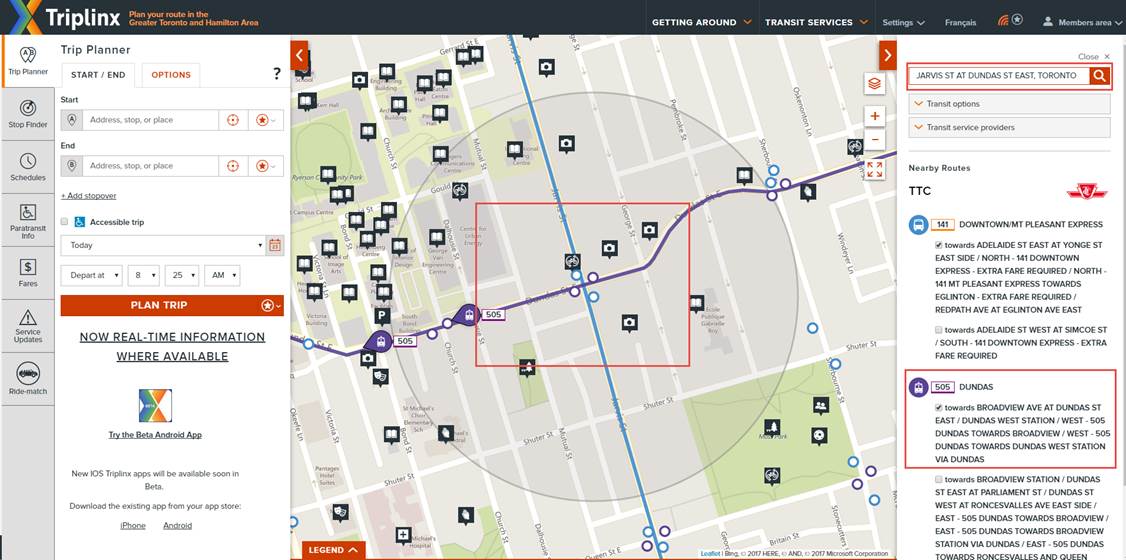 Improved presentation of stops and main routes on the map